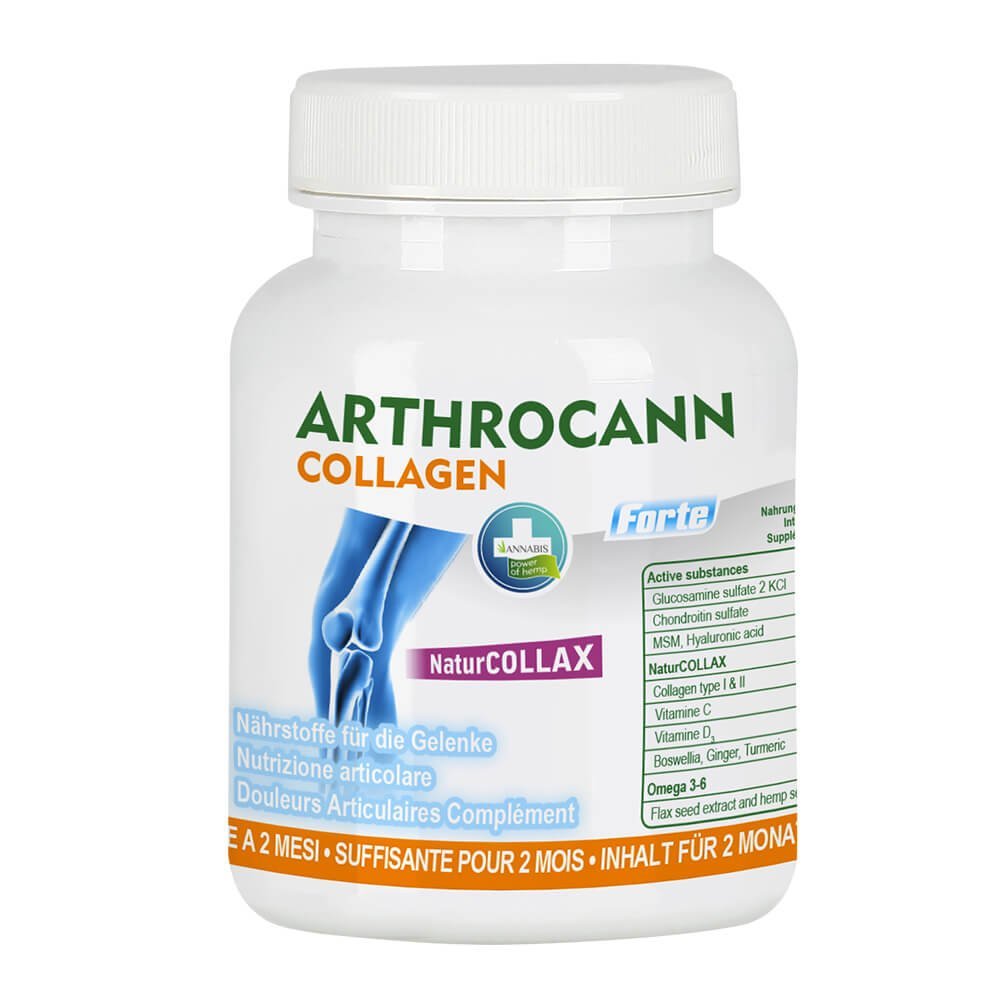 Annabis Activecann Collagen Food Supplement Omega Articular Nutrition 3-6 (60 tabs)
€23,95
Beschrijving
Extra informatie
Beschrijving
The Product Your Customers Will Love
Do you have clients that are constantly complaining of pain in their muscles? Researchers discovered the multiple benefits of CBD for pain management and arthritis. So now your athletic clients with one or two creaks in their joints could be interested in Wholesale Annabis Arthrocann Collagen Omega Articular Nutrition searching for the relief they need.Your customers are bound to come to you with bone and joint complaints. This product will ensure your clients don't complain about them long. The Wholesale Annabis Arthrocann Collagen Omega Articular Nutrition comprises the unique NaturCOLLAX complex combined with glucosamine sulfate 2 KCl, chondroitin sulfate, Methylsulphonymetahne (MSM), and hyaluronic acid.Hyaluronic acid improves bone health by helping form hyaline cartilage, which helps provide flexibility in the bones. It is also great for reducing inflammation in osteoarthritic joints. Chondroitin sulfate is also great for relieving inflammation in bones. It helps restore the elasticity of cartilage as well, thus making it an excellent nutrient for the joints.Glucosamine is widely used to relieve pain in the bones and joints and facilitate bone growth. This product is clearly perfect for your customers' bone health. Stock this product to help their physical health.
NaturCOLLAX Is The Solution For Your Customers
The active ingredient in the product, NaturCOLLAX, is made up of type 1 and 2 collagen. These natural proteins are essential for healthy bones, joints, and ligaments. NaturCOLLAX also contains vitamins C and D, ginger, turmeric, and boswellia. When coupled with the benefits of the Omega,3,6, and 9 contained in hemp extract, this product becomes a very reliable source of nutrients necessary for the bone health of your clients.Warning: keep out of the reach of children. Store in a dry place at 10-25 °C. Protect the product from sunlight.
Ingredients
Glucosamine sulfate 2 KCl (800mg/tbl.**), Hydrolysed collagen (225mg/tbl.**), Microcrystalline cellulose (180mg/1tbl.**), Vitamin C (100mg/tbl. 125% RDA*), Chondroitin sulfate (25mg/tbl.**), MSM (25mg/tbl.**), Linseed extract (15mg/tbl.**), Hemp seeds (Cannabis Sativa L. Seeds)(15mg/tbl.**), Silica anhydrous (25mg/1tbl.**), Hyaluronic acid (0,5mg/tbl.**), Boswellia serrata (0,5mg/tbl.**), Ginger (0,5mg/tbl.**), Turmeric (0,5mg/tbl.**), Vitamin D3 (5?g/tbl. 100 % RDA*). * RDA – recommended daily dose for adults **RDA – Not established
Extra informatie
| | |
| --- | --- |
| Gewicht | 0,108 kg |
| Merk | |
| Afmetingen | 6 × 6 × 9 cm |
| CBD (%) | |