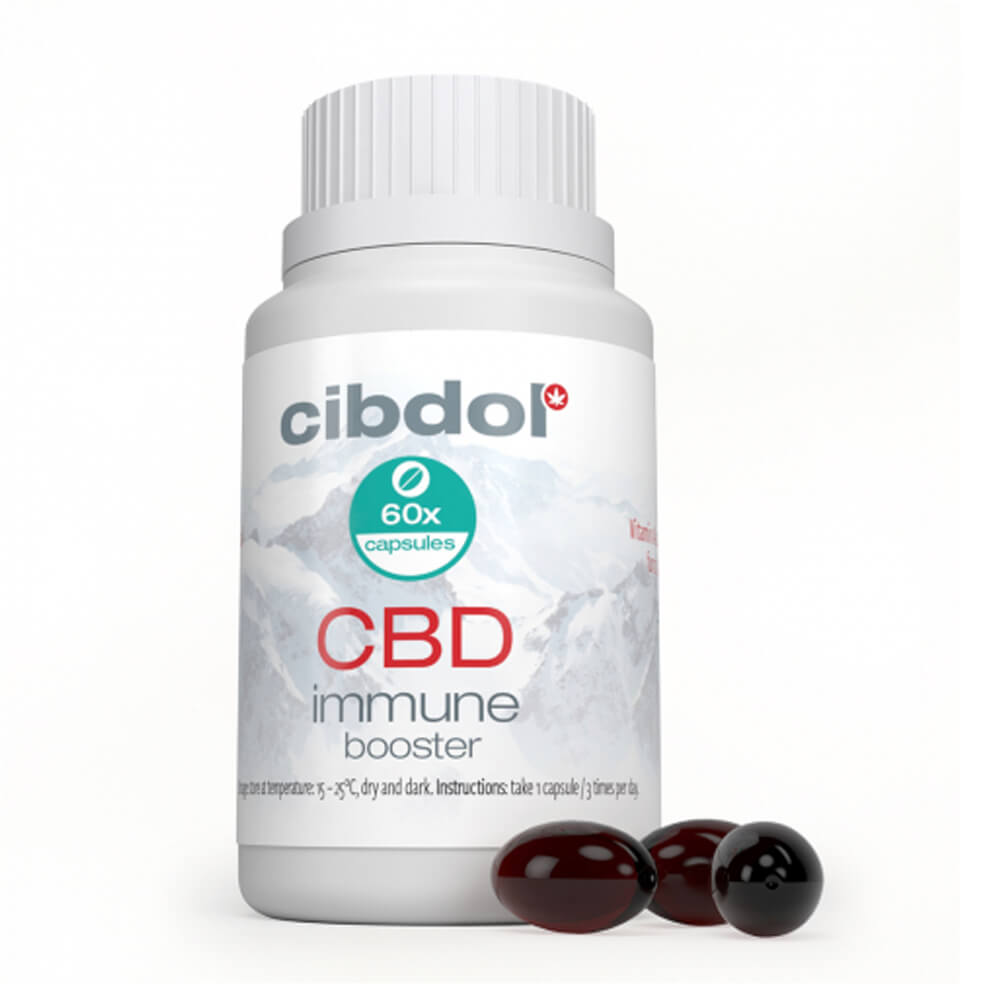 Cibdol CBD Capsules Immune Booster 600mg (60 capsules)
€34,95
Beschrijving
Extra informatie
Beschrijving
One Capsule A Day To Keep The Doctor Away
Give your customers support to their bodies from within our wholesale Cibdol CBD Capsules Immune Booster. This exclusive blend of premium ingredients not only strengthens the immune system but promotes improved well-being thanks to a full-spectrum formula. With each capsule guaranteed to be free of chemicals, pesticides, and heavy metals, it's never been easier or safer to experience the vast influence of CBD.
One capsule contains everything the body needs to maintain a healthy immune system on a daily basis. Vitamins A and D work alongside all-natural turmeric, ginger, Echinacea, sage, clove, and licorice root extracts for an all-encompassing approach to well-being that won't disappoint. The entire formula is infused into a nutritional hemp seed carrier oil for an authentic experience with a nutty taste.
Your customers can give their immune system the boost it deserves with wholesale Cibdol CBD Capsules Immune Booster—the all-in-one daily supplement that combines the golden-grade CBD with essential vitamins. Besides CBD's natural versatility, one of its primary strengths is its ability to blend with other compounds. CBD blends seamlessly with dozens of beneficial ingredients, making it the perfect foundation for supplement and vitamin formulas.
With wholesale Cibdol CBD Capsules Immune Booster, your customers can rest assured that the CBD is perfectly combined with selected vitamins and natural extracts.
And the result?
A convenient all-in-one capsule they can take daily to bolster their immune system and improve well-being!
What's In It For You? A Tale Of The Immune System
The immune system is the body's in-built defence against disease and disorder. It works in the background to protect your skin, gut, and lymphatic system when viruses or bacteria break through your body's physical barriers. Of course, getting plenty of sleep, regular exercise, and eating a nutritious diet are all excellent ways to support your immune system. But then there are chances of a busy work schedule or family commitments getting in the way, making it incredibly challenging to stay physically healthy.
What to do?
Supplements! A weak or unbalanced immune system can leave the body exhausted and exposed to infections. But, no matter what life gives, a daily supplement can provide the body the support it needs to get back on track. Supplementing essential vitamins and minerals is the perfect way to boost the immune system and keep vital physiological functions running smoothly.
And our wholesale Cibdol CBD Capsules Immune Booster does just that, bolstering the body when it's most needed. With a sophisticated formula of CBD, vitamins A and E, essential extracts, and hemp seed oil, your customers are sure to enjoy an all-natural approach to well-being with a deliciously nutty taste. With the backing of third-party testing, they are guaranteed the safest and most effective full-spectrum CBD extract on the market! CBD Immune Booster undoubtedly gives the body the support it needs. Add wholesale Cibdol CBD Capsules Immune Booster to your cart and support your customers' general well-being.
Wholesale Cibdol CBD Capsules Immune Booster features:
CBD Content 10 mg / capsule (600 mg)
Quantity 60 capsules
Conserve Store at temperature: 15 – 25°C, dry and dark.
Shelf life 6 months after opening
CBD Product
Ingredients
Hempseed oil, gelatin, vegetable glycerine,1.9% hemp extract (1% cannabidiol), ginger extract, Echinacea fluid extract, sage extract, turmeric extract, licorice extract, hop extract, clove extract, carum ajowan extract, oregano extract, retinylpalmitate (vitamin A), cholecalcipherol (vitamin D3). Ingredients from EU.
Extra informatie
| | |
| --- | --- |
| Gewicht | 0,084 kg |
| Afmetingen | 5 × 5 × 9,5 cm |
| CBD (mg) | |