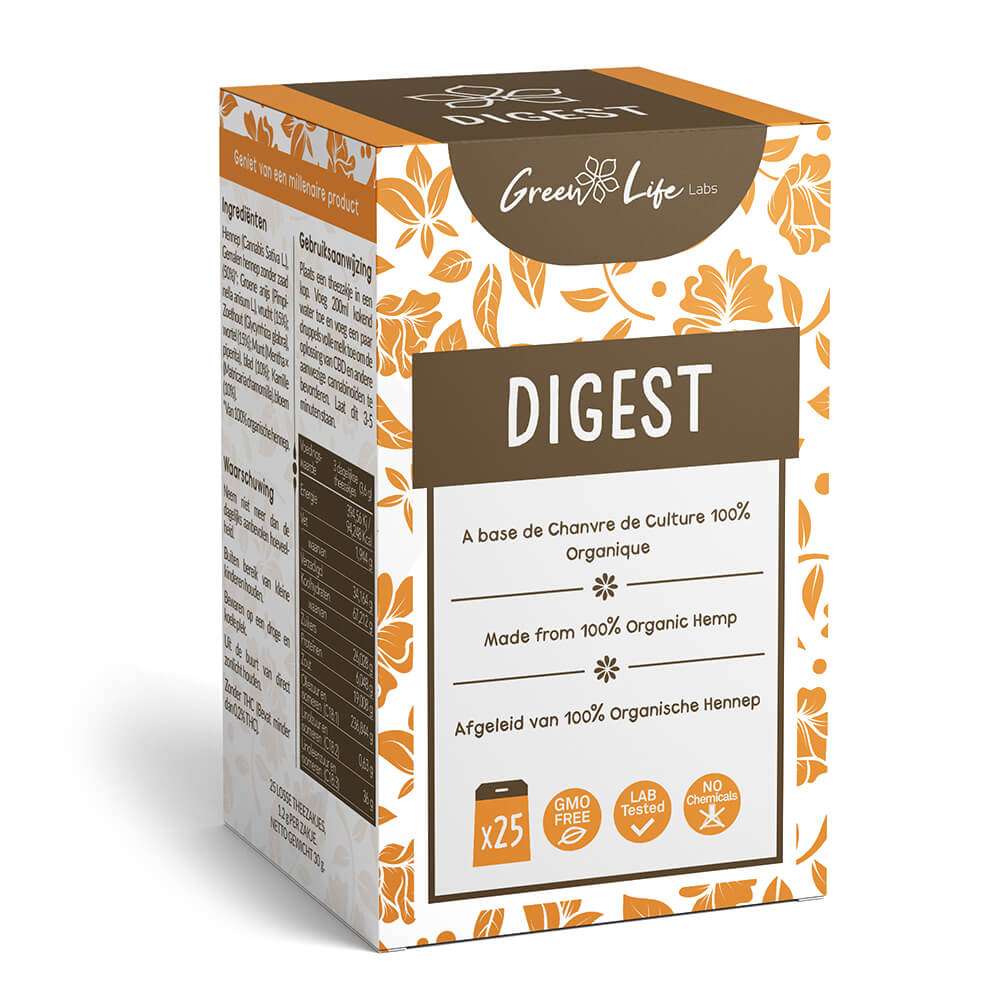 Green Life Organic Hemp Digest Tea 30g (25bags/box)
€9,95
Beschrijving
Extra informatie
Beschrijving
Indigestion can be a bother. It is so uncomfortable and causes abdominal pain in a person after the consumption of food. Are your customers struggling with digestion? The wholesale Green Life Organic Hemp Digest Tea is here to the rescue. These powerful bags contain natural ingredients carefully selected and mixed by experts. Their completely organic contents increase their potency, making them highly effective. This digest tea contains the right amount of fiber mixed with other ingredients that aid human digestion.
Get rid of indigestion without hassle
CBD tea is known for its long-lasting effects. The hemp tea contains ingredients known to soothe stomach aches as well as aid digestion. Our Green Life organic hemp digest tea was made specifically to solve indigestion problems. These tea bags are THC-free, so they would not induce highness. However, it still goes further to solve other stomach-related issues. Each box contains 25 bags of 30g of hemp each.
Purchase our Green Life Organic Hemp Digest Tea 30g today and help your customers to say goodbye to indigestion.
Ingredients
Fiber, Hemp flowers, seeds, and leaves.
Fiber has been noted for its effectiveness in relieving indigestion. This is in addition to lowering cholesterol levels, controlling blood sugar levels, and helping you achieve a healthy weight.
Also, a fiber diet will help to reduce your risk of developing hemorrhoids. This will help improve the health of your bowel.
Hemp seeds are highly nutritious, containing a generous amount of magnesium which aids the regulation of the heartbeat.
Hemp leaves are also packed with several elements like zinc, potassium, magnesium and fiber. All of these elements have several positive effects on the body.
Our green life organic hemp tea is nutrient-packed. Get rid of indigestion with ease when you consume this tea.
Extra informatie
| | |
| --- | --- |
| Gewicht | 0,066 kg |
| Inhoud | 30g |
| Merk | |
| Afmetingen | 12,5 × 8 × 12,5 cm |
| THC | |