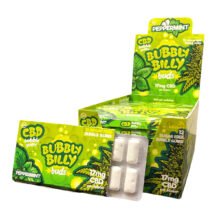 Cannabis Peppermint Chewing Gum 17mg CBD THC Free (24pcs/display)
€63,95
Merk: Bubbly Billy
THC vrij
24 stuks/verpakking
Beschrijving
Extra informatie
Beschrijving
The Product That Brings Freshness
There's nothing as soothing as the taste of peppermint. Peppermint plus cannabis in a piece of chewing gum? Divine! Give your customers a taste of this nerve-calming flavor and watch them keep coming back for more.
The wholesale cannabis peppermint chewing gum17 mg CBD is sensational. Did you know that researchers have tested and confirmed the incredible benefits of CBD? What better way to release CBD into the body for its numerous benefits than by chewing.
Chewing your way into calmness
If your customers need a familiar flavor that is soothing and effective, then peppermint is right for them. The Wholesale Cannabis Peppermint Chewing gum contains a generous 24 pieces, each having 17 mg of CBD. It is also 100% THC-free, so there are no psychoactive effects. It is affordable and very effective. The results are almost instant.
100% natural ingredients.Nobody wants bad quality. Fortunately, we are very particular about the kind of products we sell, and we ensure that good quality is a priority. Place your order now, and get this amazing product delivered to you.
Extra informatie
| | |
| --- | --- |
| Gewicht | 0,617 kg |
| Aantal stuks in verpakking | 24 stuks/verpakking |
| Merk | |
| Afmetingen | 20 × 11 × 8 cm |
| THC | |
| CBD (mg) | |