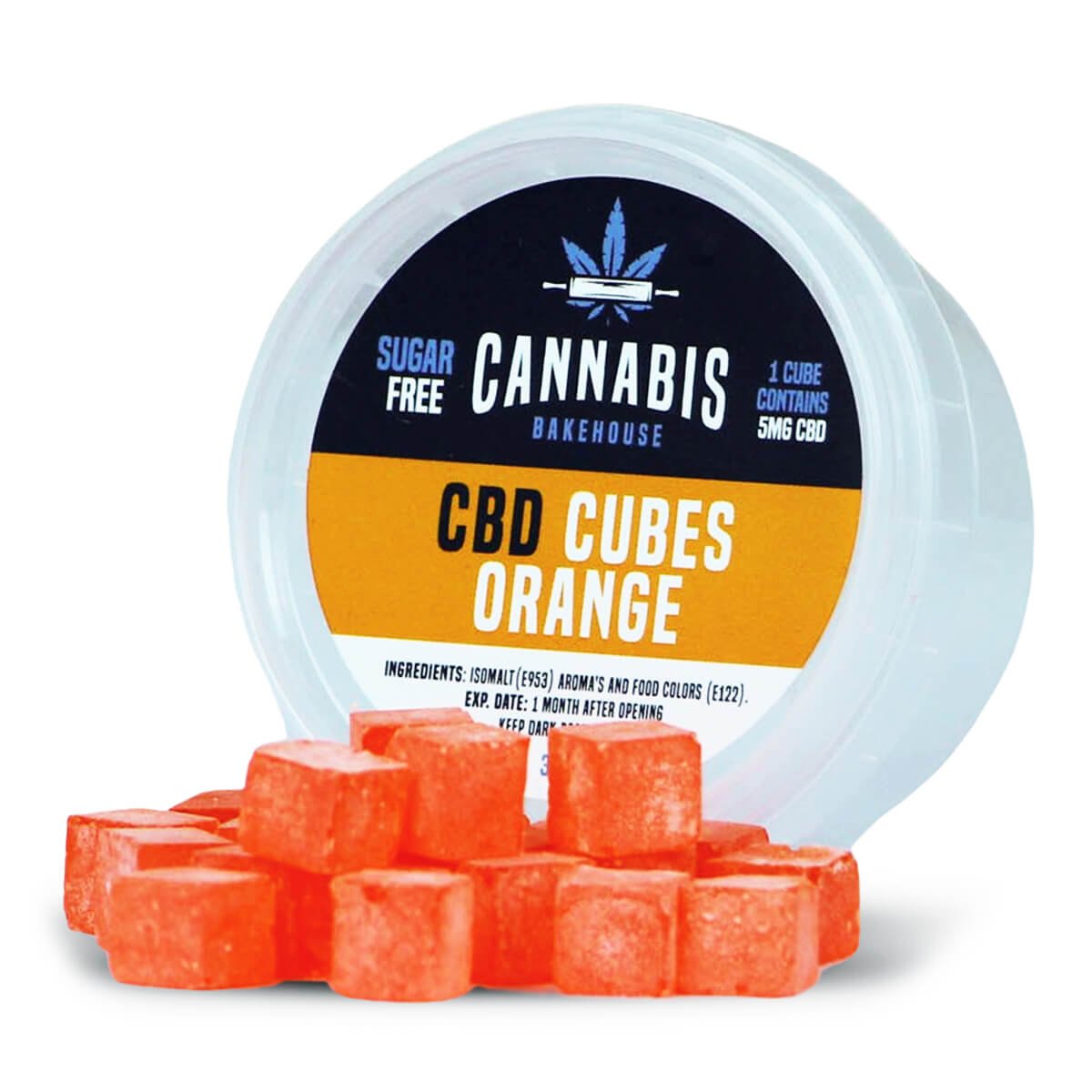 Cannabis Bakehouse CBD Cubes Orange 5mg
€8,95
Merk: Cannabis Bakehouse
THC vrij

Beschrijving
Extra informatie
Beschrijving
Orange Cubes Gummies On Fleek!
The Cannabis Bakehouse CBD Cubes Orange from Cannabis Bakehouse is not only tasty and sweet, but they are also excellent for you. There's something for everyone in the CBD Candy Cubes assortment, with various nostalgic flavor combinations to select from. If you need a CBD on the go, you will love to try our Cannabis Bakehouse CBD Cubes Orange 5mg with a delightful orange color and taste. CBD Candy Cubes feature 5mg of total spectrum cannabis dosage per cube, allowing you to effortlessly control the amount of CBD you want to take based on how many cubes you eat. CBD Candy Cubes are sugar-free, delicious, and packed with all the health benefits of hemp-derived cannabinoids, terpenes, and flavonoids. Now you can enjoy your favorite CBD treat without feeling guilty. CBD Candy Cubes are ideal for those who want to try a CBD product for the first time or seek a new favorite snack because eating a CBD product can take longer to feel the benefits. However, while it may take longer for an edible CBD product to be broken down by your digestive system, once the body absorbs it, you will be able to feel the effects for longer, so the method you choose is entirely up to you.
How Much CBD Is Being Consumed?
The amount of CBD added to the determined amount of candy cubes is standardized to ensure that the correct amount of CBD is consumed. You will receive 5mg of CBD dose for each CBD candy cube. As a result, the amount of CBD you consume will mainly be determined by the number of CBD candy cubes consumed. These CBD edibles are available in a well-packed container. The best part about ingesting candy cubes is that they are tasty, sugar-free, and include all of the benefits of hemp derived from CBD. This will ensure that you may enjoy your favorite CBD delicacies guilt-free. Because other cannabis foods take a long time to unleash the CBD effect, CBD candy cubes are the finest cannabis edibles for first-timers.
Did you know that researchers have tested and confirmed the incredible benefits of CBD? That is right, this can be beneficial for your customer's health. Even while some CBD edibles take longer to absorb, once your customer's digestive system breaks them down, they will stay in your system for a long time. As a result, CBD candy cube consumption is primarily determined by personal desire and decision. Candy cubes come in a variety of fruity flavors. Take no more than six cubes each day to reap the most excellent benefits. It is derived directly from the hemp plant and hence contains no THC. Cannabis Bakehouse bakes candy cubes from ethically and locally obtained components for a high-quality product.
We handpick some of the healthiest and cleanest strains and products to supply consumers with the best and most spectacular items. All CBD candy cubes are made and packaged by Cannabis Bakehouse, which is done manually and in-house by highly qualified employees.
Extra informatie
| | |
| --- | --- |
| Gewicht | 0,036 kg |
| Inhoud | 20g |
| Merk | |
| Afmetingen | 7 × 7 × 3,5 cm |
| THC | |
| CBD (mg) | |