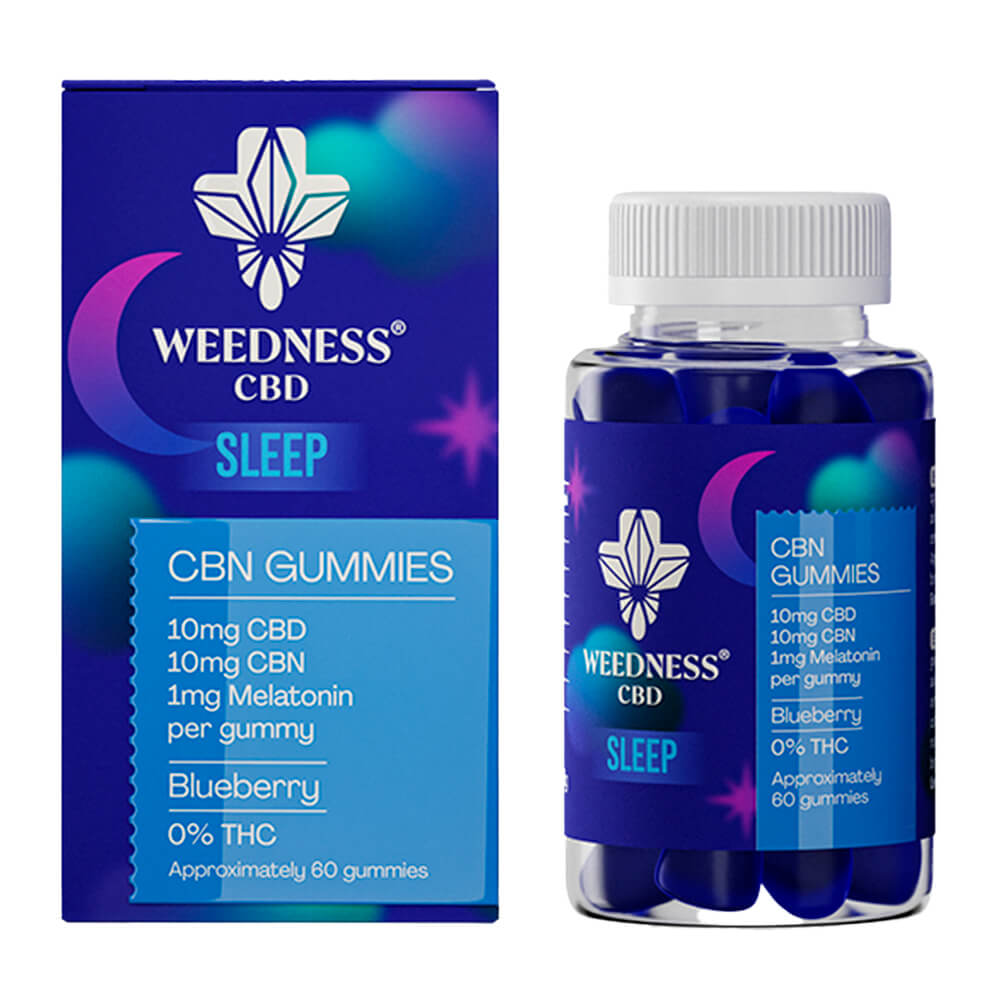 Weedness Sleep CBN Gummies 600mg CBD + 600mg CBN + 60mg Melatonin (180g)
€43,95
Beschrijving
Extra informatie
Beschrijving
Wholesale Weedness Sleep CBN Gummies 600mg CBD + 600mg CBN + 60mg Melatonin
Looking for a top-notch CBD product that can help your customers achieve a restful night's sleep? Look no further than our Wholesale Weedness Sleep CBN Gummies! Packed with a powerful blend of ingredients, these gummies are designed to promote relaxation and encourage a deep sleep.
Each gummy contains 600mg of CBD, 600mg of CBN, and 60mg of melatonin, making them a potent and effective sleep aid. The combination of CBD and CBN work together to enhance the calming and stress-relieving properties, while melatonin helps regulate the sleep-wake cycle, ensuring a more restful slumber.
These gummies are made with high-quality ingredients and undergo rigorous testing to ensure their purity and potency. They are free from harmful chemicals and pesticides, making them a safe and reliable option for your customers. Plus, they are gluten-free and vegan-friendly, catering to a wide range of dietary preferences.
Our Wholesale Weedness Sleep CBN Gummies come in a convenient 180g container, providing your customers with a generous supply of sleep support. The gummies are easy to take on the go, making them perfect for busy individuals who need a quick and effective way to unwind and achieve a peaceful night's sleep.
Not only are these gummies highly effective, but they also taste delicious. The natural flavors blend seamlessly together, creating a mouthwatering treat that your customers will look forward to consuming each night.
Whether you own a shop or are a retailer looking to expand your product offerings, our Wholesale Weedness Sleep CBN Gummies are a must-have. With their potent blend of CBD, CBN, and melatonin, they are sure to fly off the shelves and become a customer favorite.
Invest in these top-of-the-line CBD gummies and provide your customers with a product that can make a real difference in their sleep quality. They'll thank you for it, and you'll see the positive impact on your sales. Don't miss out on this opportunity to offer your customers the best sleep support available. Order our Wholesale Weedness Sleep CBN Gummies today!
Ingredients: Sugar, Glucose syrup, Gelatin, Acid regulator – citric acid, Cannabidiol, Cannabinol, Melatonin, Apple acid, Flavourings, Color (bright berry), Potassium sorbate.