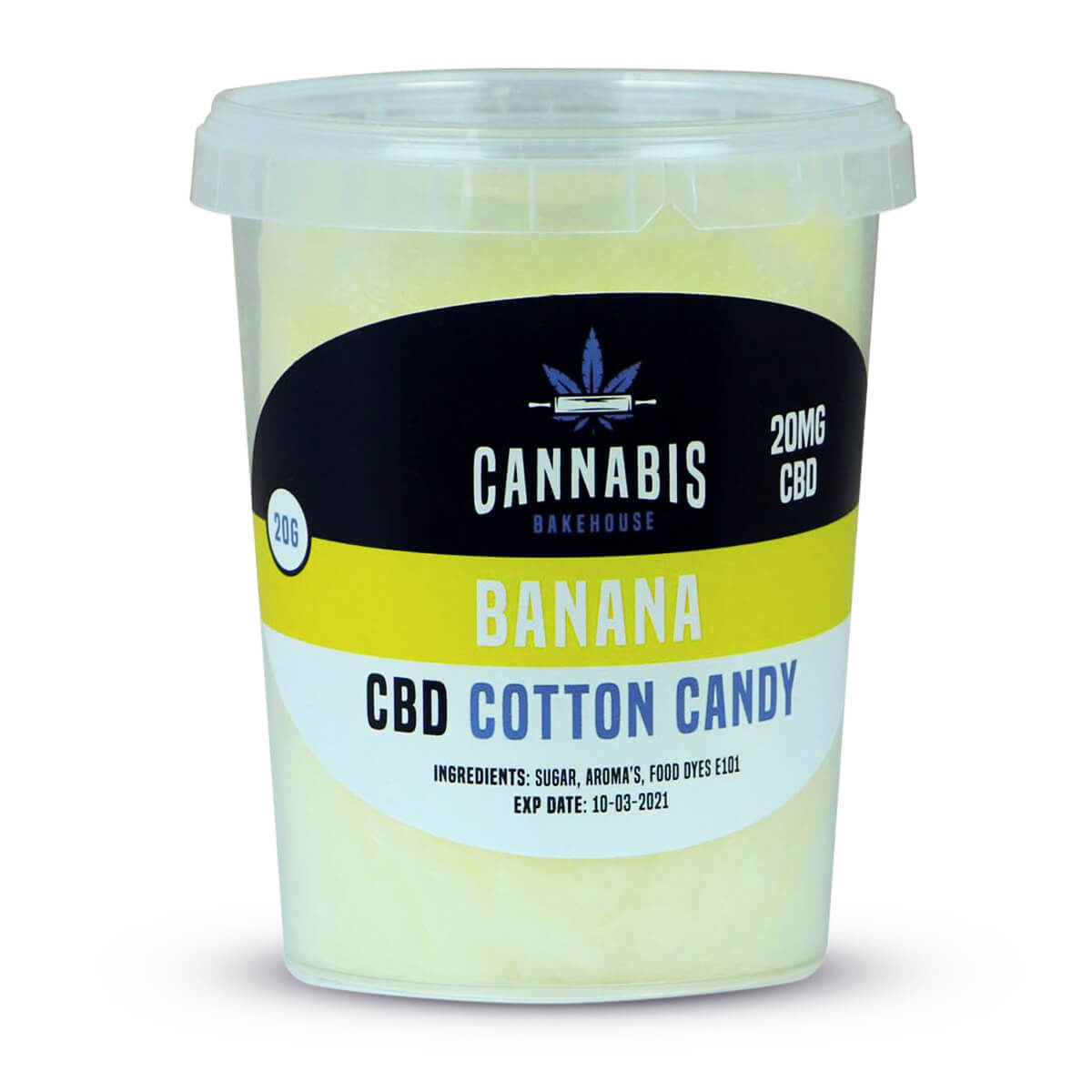 Cannabis Bakehouse CBD Cotton Candy Banana 20mg (20g)
€5,95
Merk: Cannabis Bakehouse
THC vrij

Beschrijving
Extra informatie
Beschrijving
CBD Packed Sweet Cotton Candy
Introducing CBD Cotton Candy from Cannabis Bakehouse. This tub of cotton candy is packed with an impressive lineup of benefits. Our wholesale Cannabis Bakehouse CBD Cotton Candy Banana 20mg (20g) is one of the tastiest and most thoughtful CBD treats on the market. Each tub contains 20mg of CBD, and it's THC free. Our CBD cotton candy is perfect for beginners and experienced users alike. You can therefore offer it to all your customers without any restrictions. This delicious, full-spectrum CBD sweet candy comes in re-sealable tubs that are perfect for snacking. The candy is not only sweet, but it also carries the goodness of CBD. You can, therefore, rest assured that your customers are getting all the natural benefits and high-quality CBD from Cannabis Bakehouse.
CBD Cotton Candy is a perfect offering for your customers who are looking to try CBD for the first time. It's also an ideal product for veterans and experienced users who are looking for their next favorite snack. It's great for those looking to try out a CBD product for the first time or for those who are looking to find their next favorite snack.
CBD Cotton Candy with 20mg of CBD
Perfect for both beginners and experienced users
Contains full-spectrum CBD
Comes in re-sealable tubs
Packed with natural benefits and high-quality CBD
THC free
Tasty And Delightful CBD Powered Treat
Each tub of cotton candy comes packed with unlimited CBD goodness contained in a tasty and delightful treat. The product contains full-spectrum CBD. Wondering what this means? Instead of just isolating a single CBD compound, this product contains CBD alongside all other valuable compounds and components of the cannabis plant. Why not just CBD? Well, when CBD is working alone, it does its job quite well. However, it delivers even better effects when working alongside other natural compounds like flavonoids, terpenes, and cannabinoids. This is known as the entourage effect.
The simplicity of CBD cotton candy and the thoughtfulness behind the product makes it one of the must-haves in any CBD inventory. This is one product that you can't afford to not offer your customers. CBD cotton candy has a delicious taste, and it's packed with natural CBD goodness. This delicious treat is manufactured using a natural hemp extract. The process used by CBD Bakehouse to extra and purify CBD is precise, and it adheres to international standards. As a result, the product is a safe vehicle for the benefit of CBD. The cotton candy is crafted using carefully selected ingredients like CBD extract, Gelatine, sugar, and corn syrup. There are enough flavors in this product to suit any party mood. Cotton candy is one of the most popular sweet treats, so you can be guaranteed that you will receive a massive positive response from your customers. There are no restrictions since it doesn't contain THC. Place your bulk order today and give your customers something to rave about.
Extra informatie
| | |
| --- | --- |
| Gewicht | 0,165 kg |
| Inhoud | 20g |
| Merk | |
| Afmetingen | 10 × 10 × 11,5 cm |
| THC | |
| CBD (mg) | |