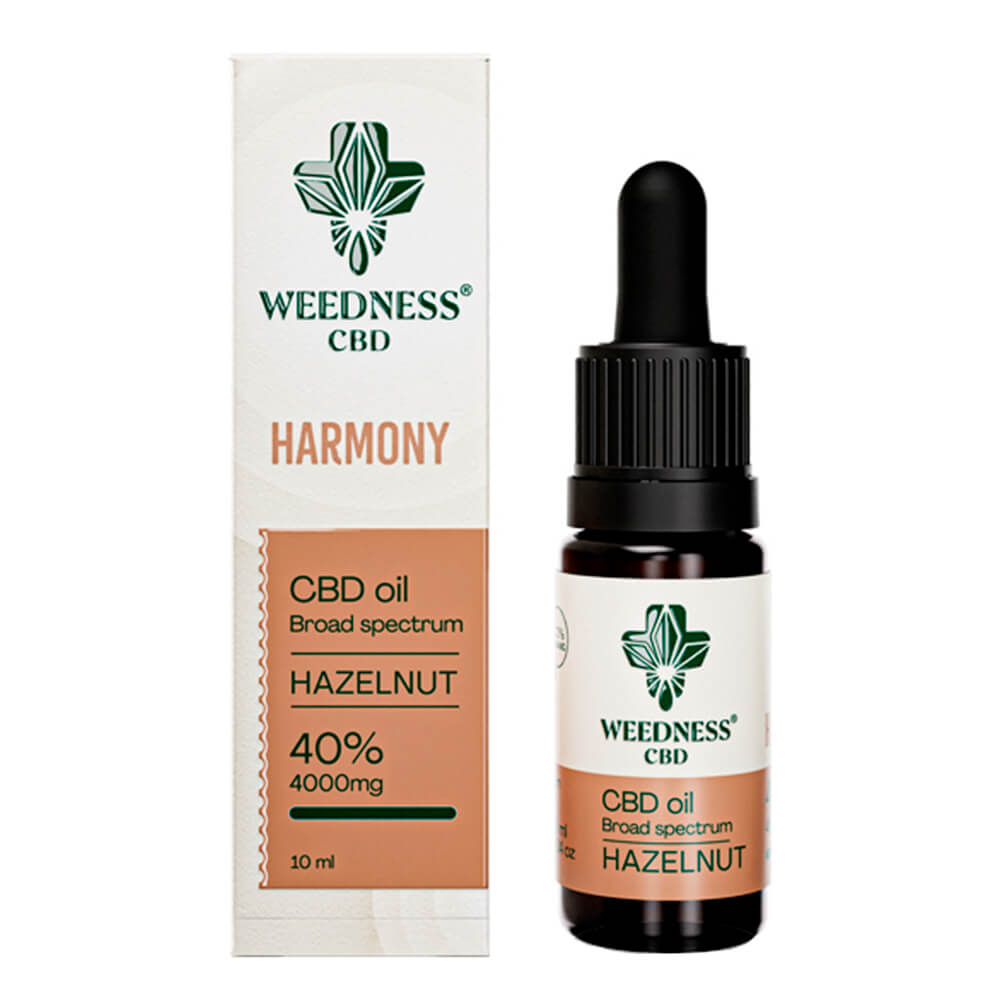 Weedness Hazelnut 40% CBD Oil (10ml)
€66,95
Beschrijving
Extra informatie
Beschrijving
Wholesale Weedness Hazelnut 40% CBD Oil
Introducing Weedness Hazelnut 40% CBD Oil (10ml), the perfect addition to your CBD collection. Crafted with precision and expertise, this premium broad spectrum CBD oil is designed to enhance your overall well-being and bring harmony to both body and mind.
Each 10ml bottle contains a remarkable 40% (4000mg) of CBD, ensuring a potent and effective experience. With approximately 280 drops per bottle, you can enjoy an approximate 14mg of CBD per drop, allowing for precise and customizable dosing to suit your needs.
This CBD oil is formulated using high-quality CBD distillate, ensuring a pure and consistent product with every use. We believe in the power of CBD to support homeostasis, promoting balance and harmony within the body. With Weedness CBD oils, you can trust that you are receiving a product that prioritizes your health and well-being.
One of the key features of our Weedness Hazelnut 40% CBD Oil is its suitability for vegans and vegetarians. We understand the importance of catering to different dietary preferences, which is why our CBD oils are free from animal gelatin, gluten, milk, lactose, and genetic engineering. You can enjoy the benefits of CBD with peace of mind, knowing that our product aligns with your lifestyle choices.
We take pride in crafting a premium oil that not only delivers powerful results but is also a pleasure to use. The delightful hazelnut flavor adds a subtle and appealing twist to your CBD routine, making each drop an enjoyable experience. Say goodbye to the unpleasant taste of traditional CBD oils and savor the smooth and satisfying flavor of Weedness Hazelnut 40% CBD Oil.
Whether you are a shop owner or retailer looking to expand your CBD product offerings, or an individual seeking a reliable and effective CBD oil, Weedness Hazelnut 40% CBD Oil is the ideal choice. With its high CBD concentration and exceptional quality, this product is sure to impress your customers and provide them with the ultimate CBD experience.
Order your Wholesale Weedness Hazelnut 40% CBD Oil today and discover the power of premium CBD oil in promoting balance, harmony, and overall well-being. Feel confident in offering your customers a product that prioritizes health, taste, and quality. Elevate your CBD collection with Weedness Hazelnut 40% CBD Oil and unlock the true potential of CBD.
Ingredients: Hemp extract, MCT Oil, Hazelnut oil, Terpenes