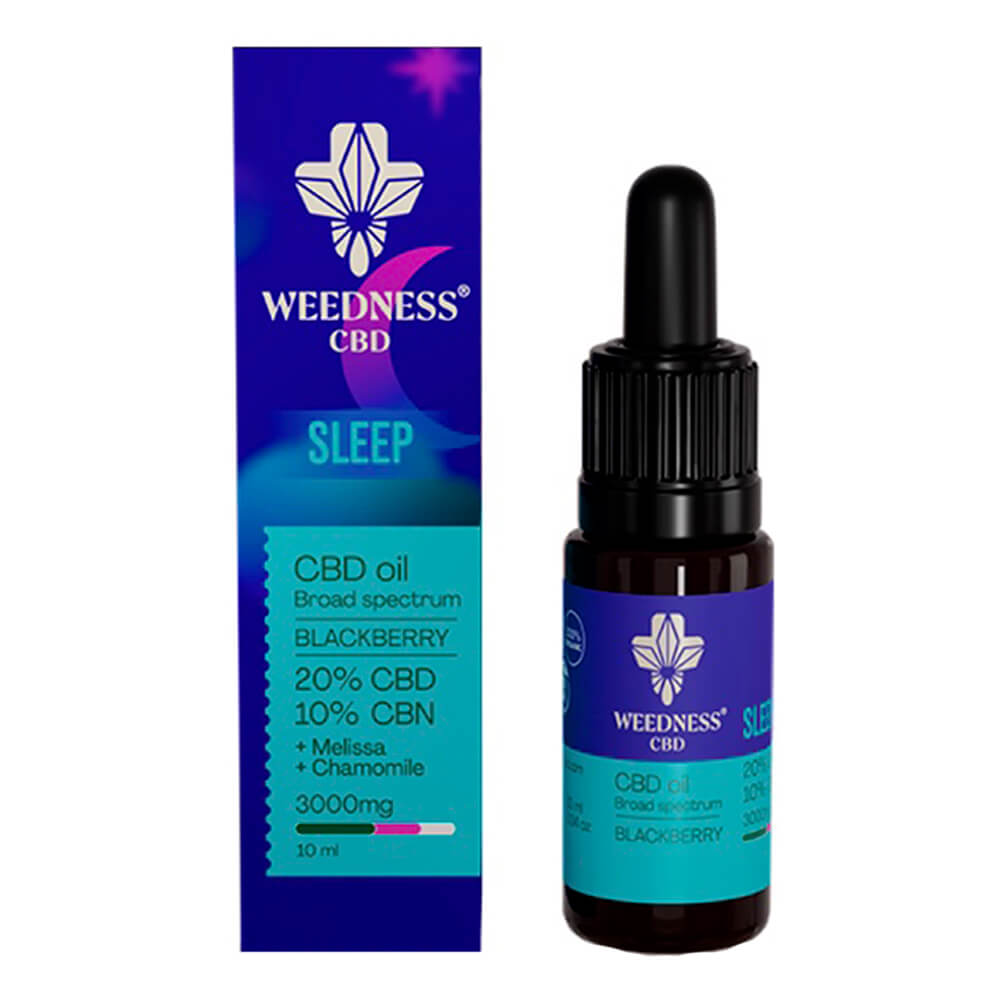 Weedness CBD Oil Sleep 20% CBD + 10% CBN (10ml)
€65,95
Beschrijving
Extra informatie
Beschrijving
Wholesale Weedness CBD Oil Sleep 20% CBD + 10% CBN
Introducing the Weedness CBD Oil Sleep 20% CBD + 10% CBN (10ml) – a premium broad spectrum CBD + CBN oil designed to improve sleep and rest.
This 10ml bottle is packed with 20% CBD (1000mg) and 10% CBN (500mg), offering high bioavailability and maximum benefits for your health. With approximately 280 drops per bottle, this CBD oil is an excellent value for money.
Made using CBD + CBN distillate, this oil undergoes supercritical CO2 extraction for superior quality. The distillate is carefully formulated with lemon balm extract and chamomile extract, known for their sleep-enhancing properties. This powerful combination promotes relaxation and a restful sleep, ensuring you wake up refreshed and rejuvenated.
One notable feature of the Weedness CBD Oil Sleep is its zero THC content. So you can enjoy the benefits of CBD and CBN without any psychoactive effects. This makes it a safe and legal choice for everyone.
In addition to its superior formulation, Weedness CBD oils also pride themselves on being suitable for vegans and vegetarians. This means you can confidently incorporate these oils into your daily routine, knowing they align with your dietary preferences.
With its convenient and easily portable packaging, you can take this CBD oil with you wherever you go. Whether you're traveling or simply need a good night's sleep, the Weedness CBD Oil Sleep is your perfect companion.
Shop owners and retailers can now offer their customers a top-quality CBD + CBN oil that stands out from the competition. The Weedness CBD Oil Sleep 20% CBD + 10% CBN is a must-have for those seeking natural and effective sleep support.
Don't miss out on the opportunity to enhance your customers' sleep experience. Stock up on the Weedness CBD Oil Sleep today and provide your customers with the best CBD + CBN oil on the market. Order now and join countless satisfied customers who swear by this premium sleep-enhancing oil.
Ingredients: Hemp extract, Melissa extract, Chamomile extract, MCT Oil | Terpenes: Linalool, Myrcene, Caryophyllene, Limonene