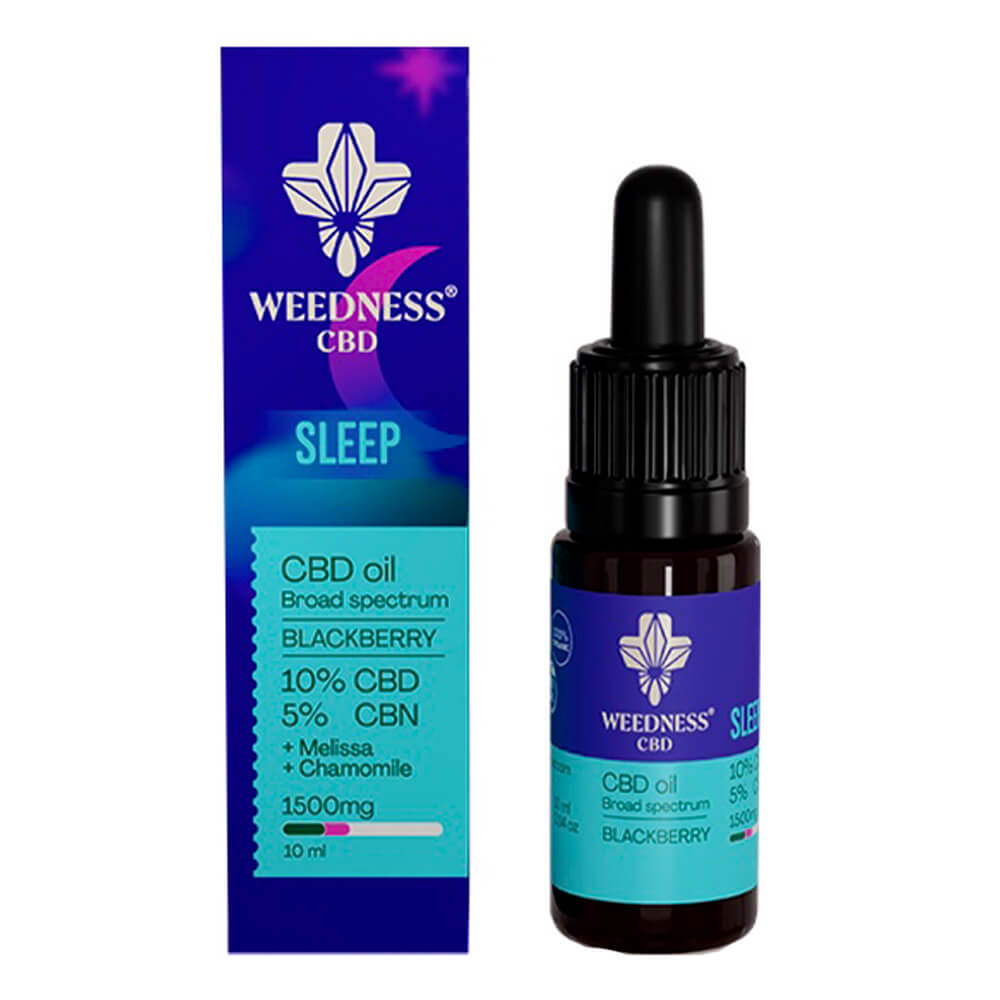 Weedness CBD Oil Sleep 10% CBD + 5% CBN (10ml)
€43,95
Beschrijving
Extra informatie
Beschrijving
Wholesale Weedness CBD Oil Sleep 10% CBD + 5% CBN
Weedness CBD Oil Sleep 10% CBD + 5% CBN is a high-quality product specifically designed to help improve sleep and rest. This premium broad-spectrum CBD + CBN oil is made with the finest ingredients to maximize its benefits for your health.
Each 10ml bottle contains 10% CBD (1000mg) and 5% CBN (500mg), ensuring a potent formula that delivers exceptional results. With approximately 280 drops per bottle, each drop contains approximately 3.5mg of CBD and 1.75mg of CBN.
Weedness CBD Oil Sleep is formulated using CBD + CBN distillate, lemon balm extract, and chamomile extract. These natural ingredients work synergistically to promote relaxation, reduce anxiety, and improve sleep quality. The addition of lemon balm and chamomile enhances the calming effects of CBD and CBN, providing a soothing and restful experience.
One of the key advantages of this CBD oil is its high bioavailability. Through a supercritical CO2 extraction process, the cannabinoids are carefully extracted from the hemp plant, preserving their purity and potency. This ensures that you receive the maximum benefits from each drop of oil.
Another standout feature of this product is that it contains zero THC. THC is the psychoactive compound found in cannabis that produces a "high" sensation. By removing THC, Weedness CBD Oil Sleep allows you to experience the therapeutic benefits of CBD and CBN without any mind-altering effects.
Weedness CBD Oil Sleep is also an ideal choice for vegans and vegetarians. It does not contain animal gelatin, gluten, milk, lactose, or genetic engineering. This makes it suitable for individuals with dietary restrictions or preferences.
In conclusion, Weedness CBD Oil Sleep 10% CBD + 5% CBN is a premium product that offers a natural and effective solution for sleep and rest. With its carefully crafted formula and high-quality ingredients, it is a reliable choice for individuals seeking to improve their sleep quality and overall well-being. Try Weedness CBD Oil Sleep and experience the difference it can make in your life
Ingredients: Hemp extract, Melissa extract, Chamomile extract, MCT Oil | Terpenes: Linalool, Myrcene, Caryophyllene, Limonene