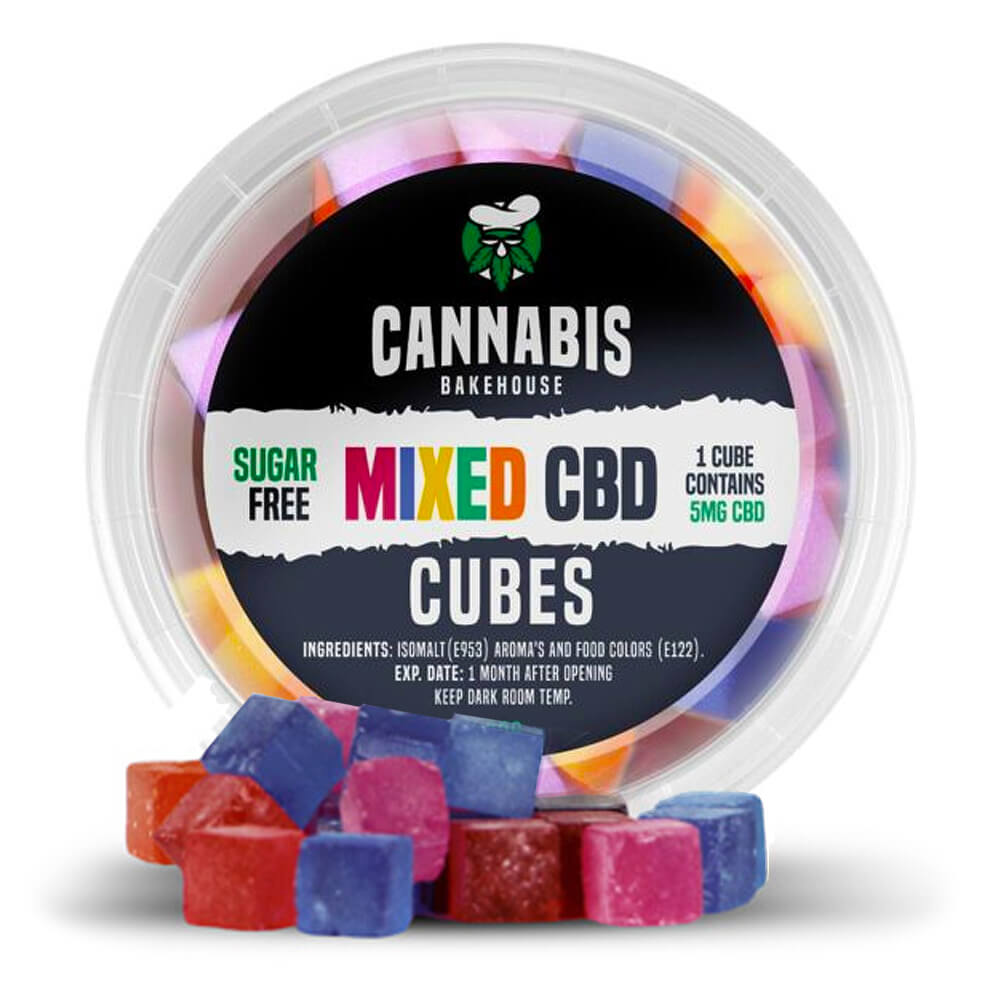 Cannabis Bakehouse CBD Cubes Mixed Flavours 5mg
€8,95
Merk: Cannabis Bakehouse
THC vrij

Beschrijving
Extra informatie
Beschrijving
CBD Cubes With Full Spectrum CBD
Packed with amazing flavors, our Cannabis Bakehouse CBD Cubes Mixed Flavours 5mg are no longer popular for just being a guilty pleasure, but they are also packed with the goodness of CBD. With lots of nostalgic flavor combinations to choose from. Looking to expand your CBD Candy Cubes range? Look no further. CBD cubes from Cannabis Bakehouse are the perfect addition to any CBD inventory.
Each of our satisfyingly sweet-flavored CBD cubes from Cannabis Bakehouse is loaded with 5mg of high-quality CBD. Unlike CBD isolate products, the cubes come with full-spectrum CBD. Full-spectrum CBD is the most potent when it comes to different CBD extracts. But what makes it so special? The difference between regular CBD and full-spectrum CBD is the compounds they contain. Full-spectrum CBD contains CBD and other naturally occurring plant compounds from the cannabis plant. These include terpenes, flavonoids, and other cannabinoids. Why is this important? CBD is known to deliver better effects when it is in the presence of other cannabis compounds. This is known by scientists as the entourage effect.
You can already see that these CBD cubes pack a serious punch. What's more, these yummy treats do not contain sugar. That is perhaps of the most significant unique selling points. No one will want to avoid them for fear of taking in too much sugar.
CBD Candy Cubes Possible Flavors
Menthol
Cherry
Orange
Watermelon
Cubes Bubblegum
Delicious and tempting CBD cubes from Cannabis Bakehouse are made using a whole new formula, thanks to which they are not only insanely delicious but also highly healthy. The unlimited number of flavors in the mixed bag will definitely remind you of your favorite candies. This is a great way to expand your inventory with something for every sweet lover!
Mixed Flavors
Featuring super sweet crowd-pleasing cherry, bubble gum flavors, and several others, these mouth-watering cubes are a great way to capture the attention of your customers. This is the perfect product for your customers who like carrying treats on the go. Not sure which flavor will be loved by your customers? No problem! This mixed tub carries more than one flavor, so you are free to sample different flavors before you figure out which one sells more.
Extra informatie
| | |
| --- | --- |
| Gewicht | 0,036 kg |
| Inhoud | 20g |
| Merk | |
| Afmetingen | 7 × 7 × 3,5 cm |
| THC | |
| CBD (mg) | |