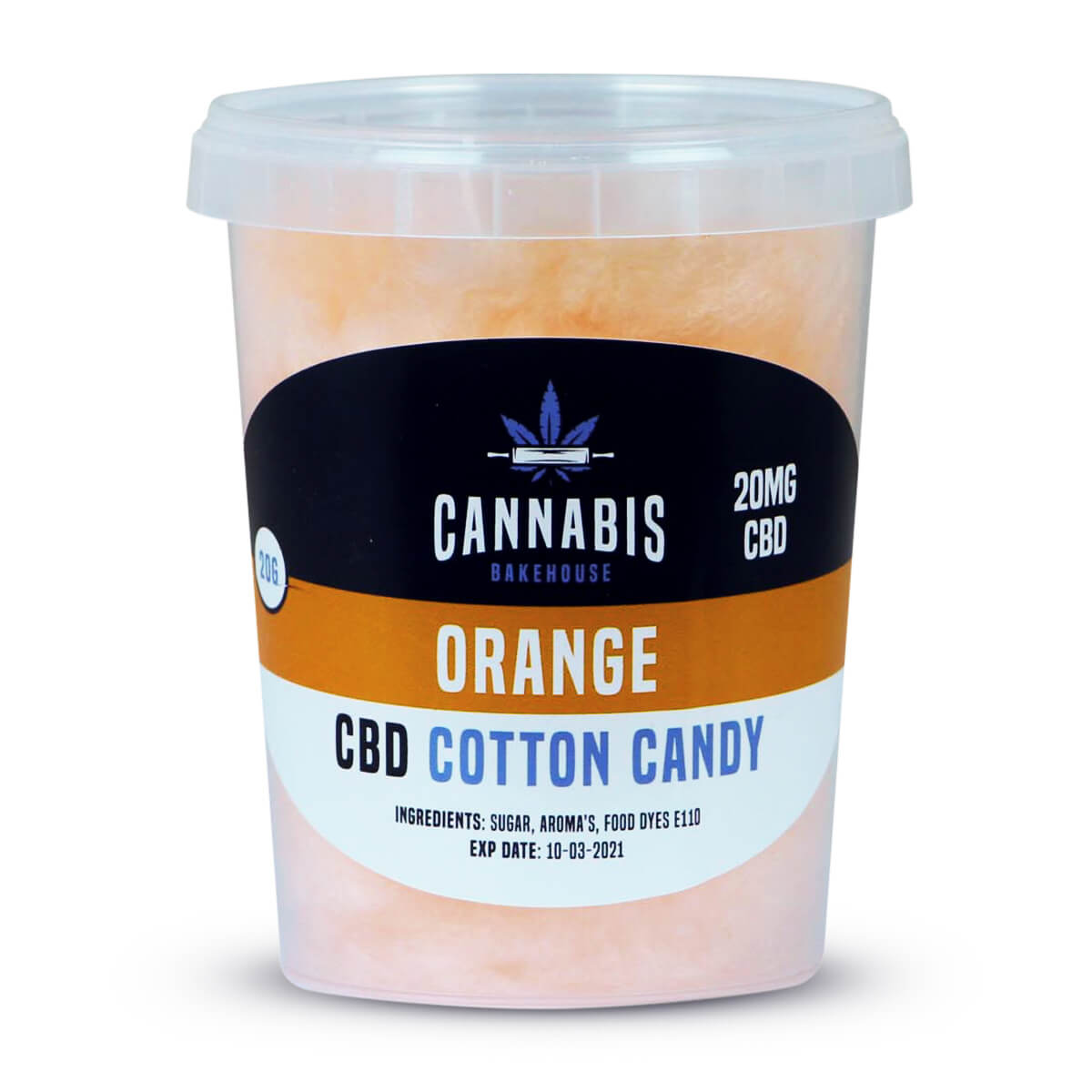 Cannabis Bakehouse CBD Cotton Candy Orange 20mg (20g)
€5,95
Merk: Cannabis Bakehouse
THC vrij

Beschrijving
Extra informatie
Beschrijving
Orange Flavored CBD Cotton Candy
Almost everyone knows and loves cotton candy. Our wholesale Cannabis Bakehouse CBD Cotton Candy Orange 20mg (20g) is a great way to offer your customers high-quality CBD. CBD Cotton Candy by Cannabis Bakehouse comes in a refreshing orange flavor. This tub of CBD sweetness is the perfect product for your customers who are looking to try out the health and well-being benefits of CBD. Each CBD cotton candy tub contains 20mg of high-quality CBD. This makes it perfect for both beginners and experienced users alike. The CBD content is not too little and not too much as well. Cotton candy offers a new and effective way for your customers to savor CBD in a delicious package.
Our cotton candy is a delicious full-spectrum CBD treat that carries all the natural goodness of CBD. So, what's the difference between just CBD and full-spectrum CBD? Our cotton candy contains CBD and multiple cannabis plant extracts. These include essential oils, flavonoids, terpenes, and other cannabinoids like cannabinol. However, unlike other full-spectrum CBD products, the CBD in our cotton candy does not contain THC. THC is the compound that produces a "high" feeling in people. Because full-spectrum CBD is packed with a full range of cannabis compounds, it may deliver more potent effects than pure CBD. It has been shown that the benefits of CBD are more profound when multiple elements from the cannabis plant are present. This is known as the 'entourage effect. Our CBD Cotton Candy Orange comes in resealable tubs. This product comes with all the natural benefits of CBD, as is expected from all Cannabis Bakehouse products. This product is ideal for beginners who want to experience the potency of full-spectrum CBD and experienced users who are looking to experiment with new snacks.
Great Product To Add To An Edible Inventory
Are you looking for new CBD edibles to add to your inventory? Look no further. Place a bulk order of CBD Cotton Candy today and give your customers something to rave about. Our delicious, high-quality cotton candy is crafted using a natural hemp extract. Cannabis Bakehouse uses a very precise process to extract and purify CBD. The brand follows the required standards to ensure that your customers receive a product that doesn't only taste good but is safe as well. Cotton candy is manufactured using ingredients like sugar, gelatine, corn syrup, and a full-spectrum CBD extract. It might sound crazy that cotton candy contains CBD. But it's actually not that weird. CBD can be put in anything. With 20mg of CBD per jar, this product is as good on the inside as it is on the outside.
CBD Cotton Candy is packed with the goodness of CBD. The product comes in a refreshing orange flavor to make for a tasty treat that will appeal to your sweet-toothed customers. The simplicity of the cotton candy makes it appealing to almost every one of your customers. Everyone knows and loves the delicious taste of cotton candy.
Extra informatie
| | |
| --- | --- |
| Gewicht | 0,165 kg |
| Inhoud | 20g |
| Merk | |
| Afmetingen | 10 × 10 × 11,5 cm |
| THC | |
| CBD (mg) | |