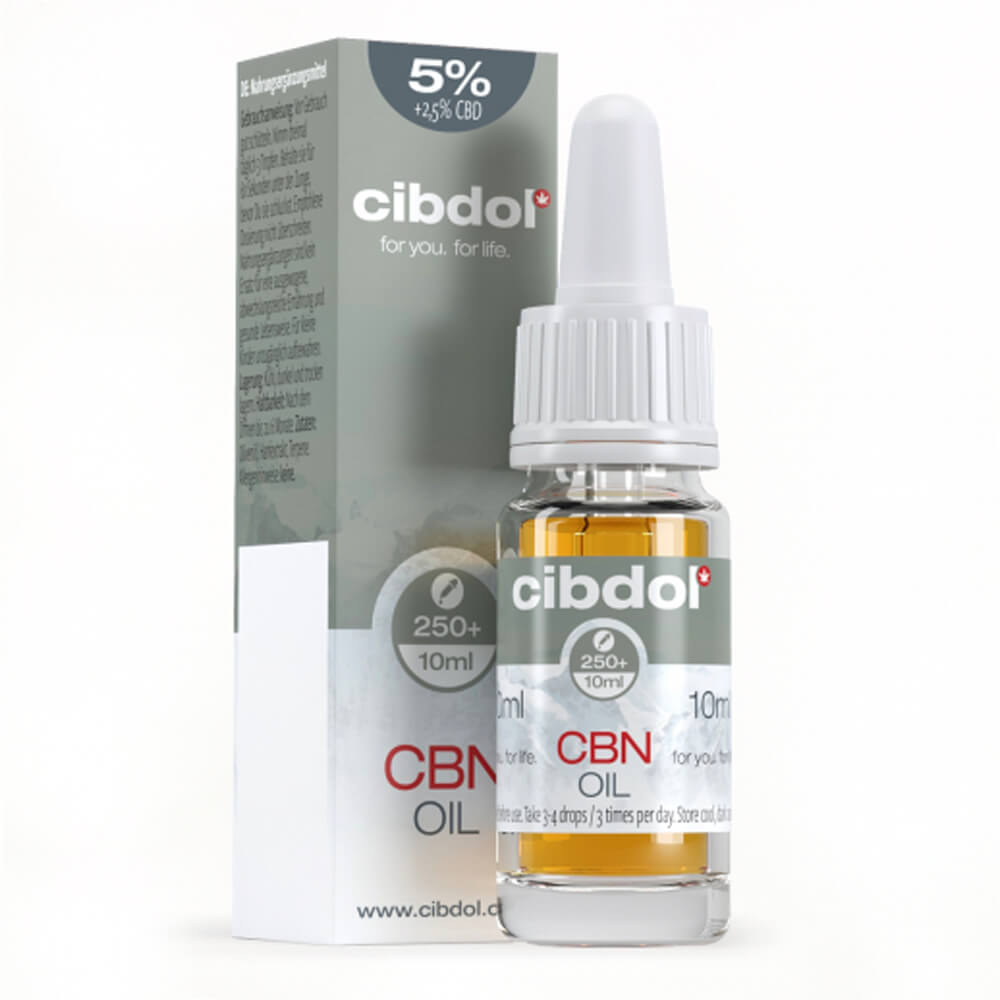 Cibdol 5% CBN + 2.5% CBD Oil (10ml)
€30,95
Beschrijving
Extra informatie
Beschrijving
CBD & CBN Merge To Give The Best Oils
Our Wholesale Cibdol 5% CBN + 2.5% CBD Oil has a concentrated amount of high-quality CBN in addition to our tried-and-true golden-grade CBD. These two substances are supercharged for maximum efficiency thanks to the entourage effect, which is backed by vital terpenes and flavonoids. As a result, your customers may have far-reaching impacts on their well-being, allowing them to focus on the things they enjoy.
What are the potential benefits of CBN and CBD Oils?
CBN: There is continuous research into CBN's potential impact, with studies taking place all around the world. Despite its relation to THC, CBN does not induce psychoactive side effects, which is a considerable advantage. Early research suggests that CBN's interaction with CB1 and CB2 receptors may have an impact on the following:
Activate the immune system
Protect against aging signs
CBD: The whole influence of CBD is still being studied. As a result, we can't make any claims about its ability to heal specific ailments. However, preliminary research suggests that the cannabinoid's stimulation of the immune system could lead to a variety of potential benefits. Researchers believe CBD could have a critical role in improving:
Sleep
Memory
Researchers are working hard to figure out the full scope of the endocannabinoid system, as well as how using CBD on a daily basis could help with specific ailments. Despite the fact that there is still much to understand, the number of published research is growing every day, and CBD's potential is constantly expanding.
The Entourage Effect Adds Even More Intensity
Wholesale Cibdol 5% CBN + 2.5% CBD Oil demonstrates the powerful effects of high-quality CBN augmented by CBD. Both chemicals synergize for a supercharged approach to cannabis supplementation when carefully mixed. The capacities of cannabinoids, terpenes, and flavonoids are boosted when they are present together. Wholesale Cibdol 5% CBN + 2.5% CBD Oil takes advantage of the entourage effect to deliver a complete wellness solution.
The extraction of elusive cannabinoids like cannabinol (CBN) necessitates cutting-edge technology and sophisticated methods. Cibdol extracts these chemicals using industry-leading processes and delivers them in unrivaled purity and quality. Wholesale Cibdol 5% CBN + 2.5% CBD Oil, when combined with essential terpenes and nourishing olive oil, could be the ideal solution for improving well-being from different perspectives.
CBD is the most abundant cannabinoid in hemp, however, unlike CBN, it does not connect to cannabinoid receptors directly. Instead, it tries to boost the efficacy of the immune system by promoting the production of beneficial enzymes and endocannabinoids from within. CBN is a cannabinoid receptor antagonist with a much lower concentration in hemp than CBD. It must be isolated and concentrated adequately using cutting-edge technology. Fortunately, despite their differences, the two cannabinoids complement one other effectively and have non-psychotropic effects. It is possible to influence well-being on numerous fronts by combining their influence.
Keep the bottle in a cold, dark, and dry area after opening for optimal effects.
Wholesale Cibdol 5% CBN + 2.5% CBD Oil Specifications
Percentage CBD: 2.5%
Content: 10ml
Percentage CBN: 5%
Carrier: Olive oil
Gluten-free
Vegan
Ingredients
Olive oil, Hemp Extracts, Terpenes, Flavonoids