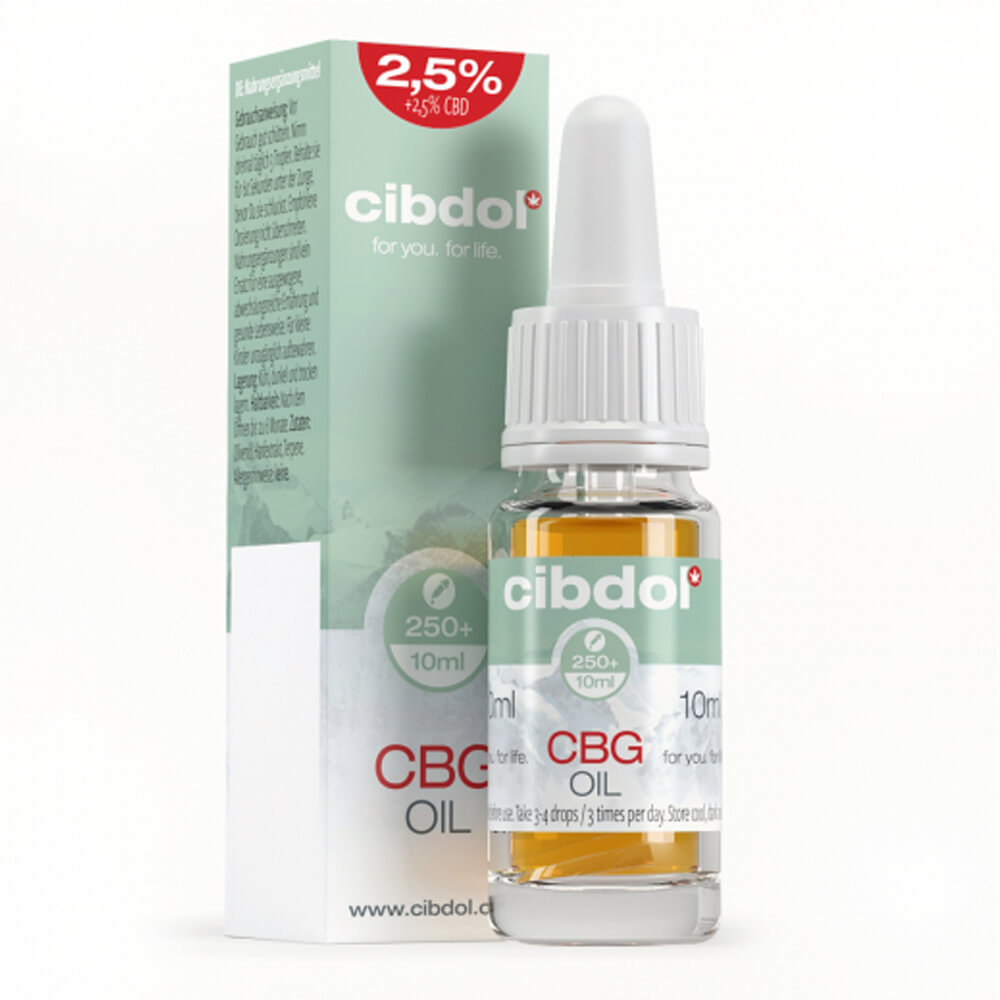 Cibdol 2.5% CBG + 2.5% CBD Oil (10ml)
€25,95
Beschrijving
Extra informatie
Beschrijving
CBG and CBD Merger
Our Wholesale Cibdol 2.5% CBG + 2.5% CBD Oil will accelerate your customer's wellness experience by taking the entourage effect to new heights. Now they can benefit from the combined effects of both cannabinoids in a well-balanced composition. Boosting their well-being has never been easier, thanks to a comprehensive spectrum of terpenes, antioxidants, plant protein, etc.
May this is the perfect product for your customers because CBD oil is a practical wellness supplement that has the potential to help with various ailments such as anxiety and depression based on research. Each bottle of Wholesale Cibdol 2.5% CBG + 2.5% CBD Oil contains active CBD, a non-toxic chemical produced from industrial hemp. The producers optimized the extraction process using cutting-edge technology. These oils' active ingredients are critical for promoting a physiological state of equilibrium. Keeping our bodies in a calm, peaceful state is critical in today's environment, which is more connected than ever. Wholesale Cibdol oils help your customers stay focused and on track despite the highs and lows of life.
Wholesale CBG Oil – Mechanism and Effects
With Cibdol's finest CBG oil, embrace the wellspring of all cannabinoids. Cannabigerol is the precursor of dozens of other non-toxic cannabinoids, and your customers' can now safely enjoy its potential benefits. The manufacturers have isolated considerable levels of CBG for an impact that considers all sections of the body, thanks to cutting-edge extraction and a commitment to nature's true potential. CBG has a wide range of applications, whether it's in combination with other cannabinoids or on its own. There's no doubt that as they learn more about this intriguing molecule, its potential for health benefits will only increase. Cibdol goes above and beyond to support the life your customers deserve with the strength of CBG, sourced from the finest naturally produced hemp.
The endocannabinoid system (ECS) is where all cannabinoids interact with the body. The ECS is a massive regulatory network that runs the length and breadth of our bodies. Its main purpose is to keep our biological systems in a state of balance. The ECS's regulating function includes areas such as:
Memory and learning.
Stress and emotions.
Cannabinoids and the ECS typically interact via direct activation of CB1 and CB2 receptors. These receptors serve as cannabinoid entry sites, allowing them to elicit various biological responses. CBG is thought to operate similarly, partially activating CB2 receptors but having a greater affinity for CB1 receptors. Although the precise mechanism of action is unknown, scientists have confirmed that CBG effectively controls endocannabinoid signalling and may have therapeutic effects. Several studies have proven that cannabinoids help the ECS regulate itself, but the extent is unknown.
The Ideal Mix For Increased Happiness
Wholesale Cibdol 2.5% CBG + 2.5% CBD Oil offers your customers the ideal partnership with 2.5 percent CBD & 2.5 percent CBG Oil by utilizing the synergistic potential of cannabinoids. CBD and CBG are featured in equal proportions and work together to support your customer. Using industry-leading techniques in their state-of-the-art facilities, they channelled their expertise to bring your customers a powerful combination with enhanced effects. As you'd expect from Cibdol, every element of this unique formula undergoes independent testing for total peace of mind.
Choose Wholesale Cibdol 2.5% CBG + 2.5% CBD Oil for a cannabinoid-rich wellness experience. Store it in a cold, dark, and dry place after opening for optimal effects.
Wholesale Cibdol 2.5% CBG + 2.5% CBD Oil Specifications
Shelf life: 6 months after opening
Percentage CBG: 2.5%
Carrier: Olive oil
Gluten-free
Vegan
Ingredients
Olive oil, hemp extract, terpenes