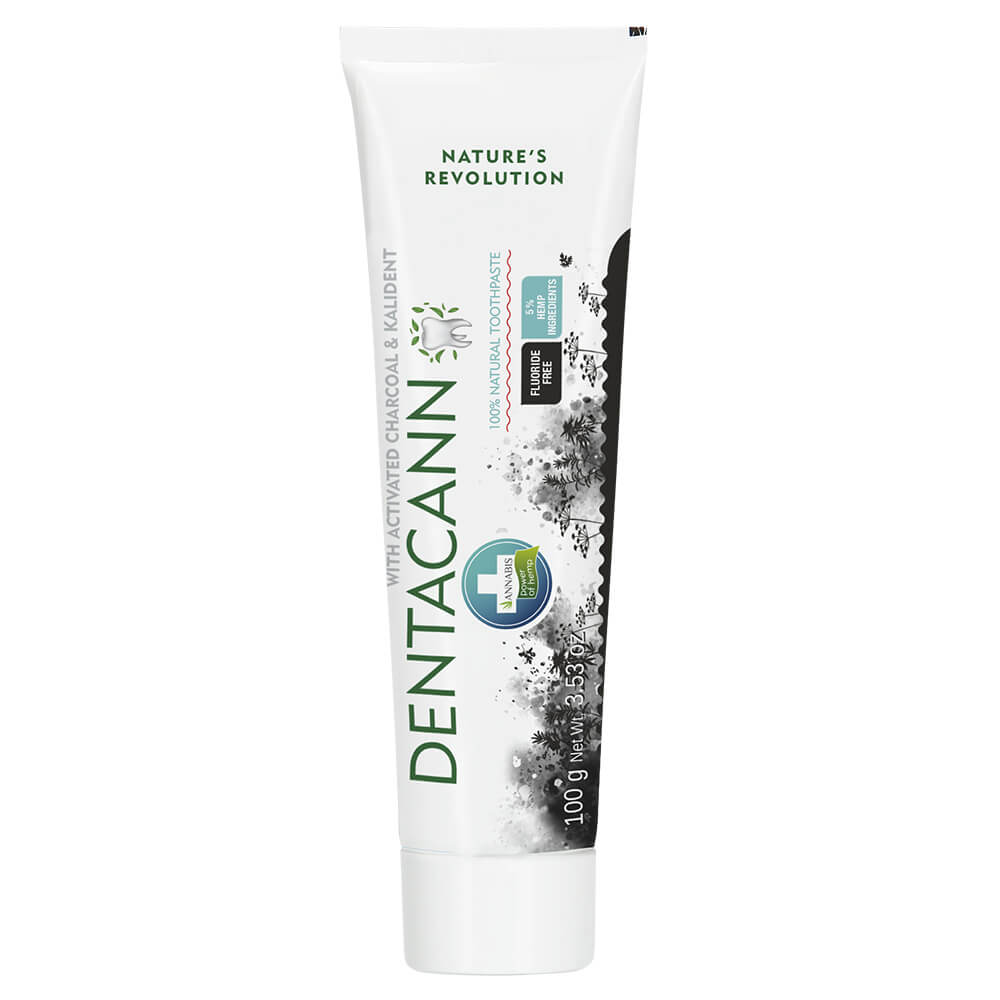 Annabis Dentacann Hemp Based Toothpaste 100g
€8,95
Beschrijving
Extra informatie
Beschrijving
Brushing Never Felt Better
The teeth are one of our most noticeable features when we smile or talk and what better way to keep them clean and healthy than with wholesale Annabis Dentacann Hemp Based Toothpaste.This Hemp-based toothpaste is designed with natural products to keep your customers' teeth clean and healthy without subjecting them to chemicals in synthetic toothpaste that could weaken the teeth over time.This Dentacann toothpaste has a user-friendly design. The paste itself has a good flow nature, and the package doles out the paste with just a little pressure applied. The non-gritty texture makes brushing gentle. Also, the toothpaste doesn't stick to the mouth and can be easily rinsed off with little water. The wholesale Annabis Dentacann Hemp Based Toothpaste is vegan and eco-friendly, making it the perfect choice for all customers. This product has been approved to be safe even for kids. It is THC free, so customers will experience no psychoactive effects after brushing.
Dental Care At Its Finest
Wholesale Annabis Dentacann Hemp Based Toothpaste contains natural abrasives that would keep the teeth clean. Kalident has re-mineralization properties and helps repair dental flaws caused by plaques, as shown by scientific research. This toothpaste contains activated charcoal (an adsorbent) and Kalident, which according to scientific research, is a suitable replacement for fluoride. These two ingredients are responsible for removing unwanted discoloration, giving your customers the white teeth they desire. The Peppermint Oil leaves the mouth with a minty feeling.These properties are sure to make your customers choose this brand as their preferred product for their daily dental care. You should order wholesale Annabis Dentacann Hemp Based Toothpaste 100g so you would always have this product when customers come asking because they will.Recommended use: Apply the toothpaste twice a day. Rinse with water after brushing.
Ingredients
Water/Aqua, Calcium Carbonate, , Glycerin, Zea Mays Starch, Xylitol, Hydroxyapatite, Alcohol, Pentylene Glycol, Coco Glucoside, Sodium Lauroyl Sarcosinate, Avena Sativa Meal Extract, Cocos Nucifera Oil, Sodium Chloride, Charcoal Powder, Cannabis Sativa Seed Extract*, Sodium Benzoate, Potassium Sorbate, Xanthan Gum, Eugenia Caroyphyllus Oil, Citrus Sinensis, Peel Oil Expressed, Mentha Piperita Oil, Limonene, Eugenol, Stevia Rebaudiana Leaf Extract, Citric Acid, Isoeugenol, Citral, Linalool. *organic
Extra informatie
| | |
| --- | --- |
| Gewicht | 0,109 kg |
| Inhoud | 100g |
| Merk | |
| Afmetingen | 4 × 4 × 17 cm |
| CBD (%) | |