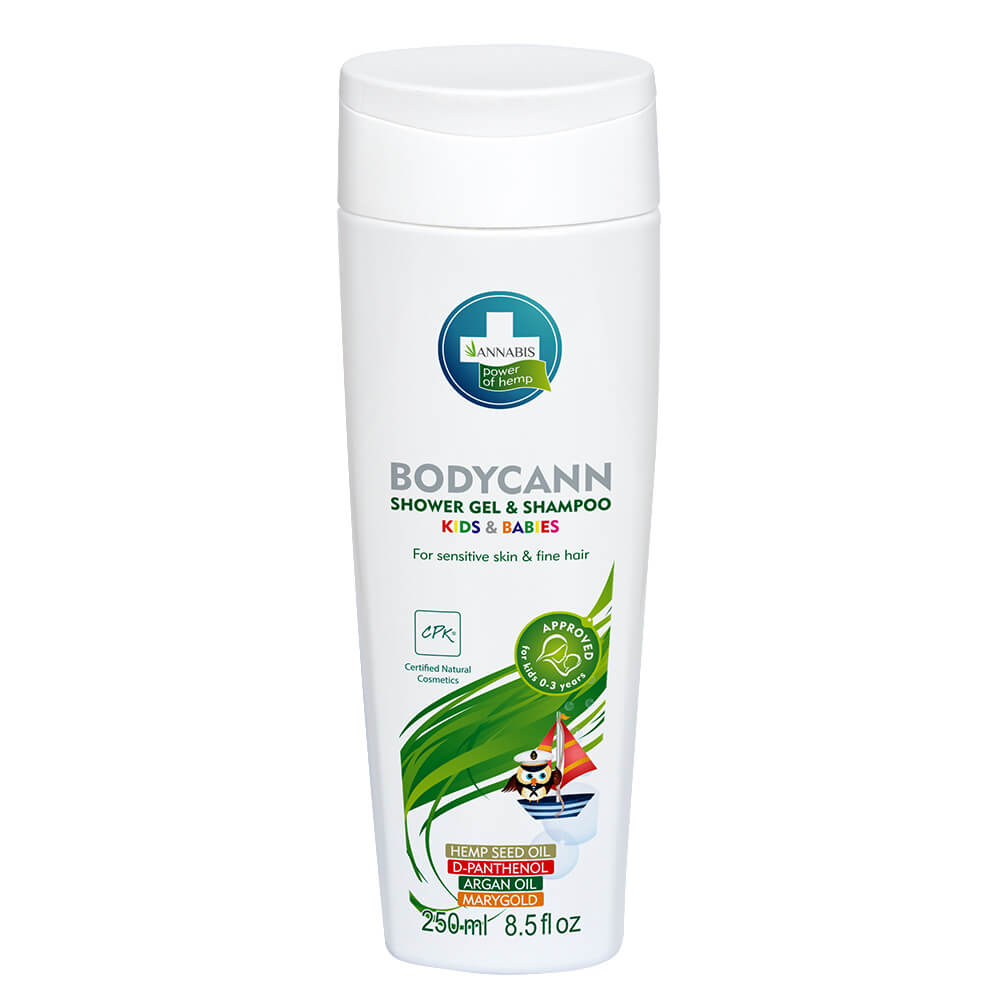 Annabis Bodycann Kids and Babies 2 in 1 Shower Gel and Shampoo (250ml)
€10,95
Beschrijving
Extra informatie
Beschrijving
Made From The Healthiest And Most Natural Ingredients
Nothing is as satisfying as seeing your kids with the perfect skin or hair. What about a product that can help customers achieve both? Annabis Bodycann Kids and Babies 2 in 1 Shower Gel and Shampoo provides double care action for kids' hair and skin while saving them from the stress and cost of buying different skin and hair care products.Your customers don't have any reason to worry about health effects on their kids. This product's safety has been approved for children from 0 to 3 years old. According to scientific proof, the hemp seed oil in this unique product can enrich and keep the skin hydrated and free of irritations. Also, the natural shampoo, which constitutes lavender oil that promotes hair growth and prevents thinning of hair, also protects the scalp from inflammations and eczema.Wholesale Annabis Bodycann Kids and Babies 2 in 1 Shower Gel is so uniquely formulated that it is also suitable for adult customers with sensitive skin. It is also acceptable to vegan customers. This product is packaged in an attractive manner that will draw customers' attention. The package is designed to allow easy use of the product without hassles like clogging or overspilling.Purchase wholesale Annabis Bodycann Kids and Babies 2 in 1 Shower Gel 250ml at affordable prices today.
Perfect Hair And Skin Care For Kids
The gel is ideal for the soft skin of your customer's kids due to its smooth and soothing texture, which is perfect for the tender nature of children's skin. The gel also acts as a coat to prevent sunburn, and it would leave your customers' kids moisturized and smelling nice. Lavender oil also has antibacterial and anti-lice properties for the scalp, a common issue for kids. Your customer doesn't need to be worried about their children getting dandruff or lice infections due to their playful nature. With this wonderful product, kids can run and play the way they want without any worries.
Ingredients
Aqua/Water, Cocamidopropyl Betaine, Coco-Glucoside, Glyceryl Stearate, Sodium Cocoamphoacetate, Disodium Cocoyl Glutamate, Panthenol, Calendula Officinalis Flower Extract, Helianthus Annuus Seed Oil, Lavandula Angustifolia Oil, Citrus Sinensis Peel Oil, Cannabis Sativa Seed Oil, Argania Spinosa Kernel Oil, Sodium Benzoate, Potassium Sorbate, Citric Acid, Lactic Acid, Limonene, Linalool.
Extra informatie
| | |
| --- | --- |
| Gewicht | 0,293 kg |
| Inhoud | 250ml |
| Merk | |
| Afmetingen | 4 × 6 × 20 cm |
| CBD (%) | |